Posted on June 24th, 2022 by Admin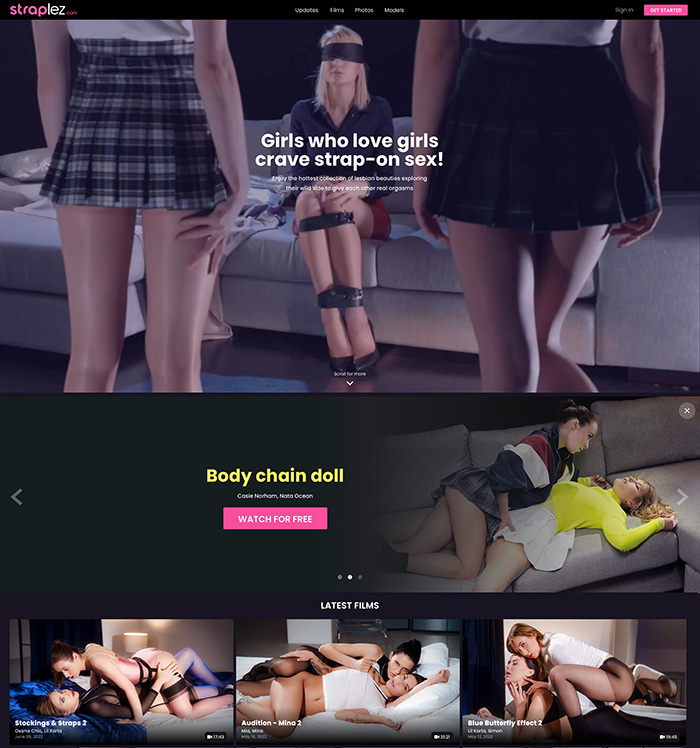 Unique lesbian erotica site Straplez.com is now part of the multi-award-winning MetArt Network. MetArt is committed to elevating this exceptional website to new heights of technical excellence while retaining the creative team that has made it so ground-breaking.

Launched over a decade ago, Straplez presents beautiful girls enjoying strap-on sex and passionate licking, captured in stellar 4K videos. Lovers of glamorous models in nylons and high heels go wild for the explicit action as the uninhibited sapphic babes use their fingers, tongues and strap-ons to give each other real orgasms with an edgy twist.

What makes Straplez so original and enthralling is the power dynamic. Unlike most mainstream lesbian erotica which features girls taking turns to please each other in a predictable pattern, Straplez puts the emphasis on domination. One partner is the top, the other is submissive, and they do not switch, creating a far more authentic and compelling scenario full of sexual tension.

Models are chosen carefully not only for their looks but for that special horny expression in their eyes that lets the viewer know they are expressing their genuine desires. Spanking, fetish outfits, power games and squirting dildos enhance the experience to delight horny thrill-seekers. It fills a unique niche between boy-girl and girl-girl movies, where viewers can enjoy hardcore action without men from models who never did hard scenes.